LEAN Overview & SImulation
This workshop will define and teach Lean Manufacturing and key Lean concepts. This workshop includes a hands-on production exercise (simulation). Class participants will produce a product with a given production scenario, then apply Lean principles to improve the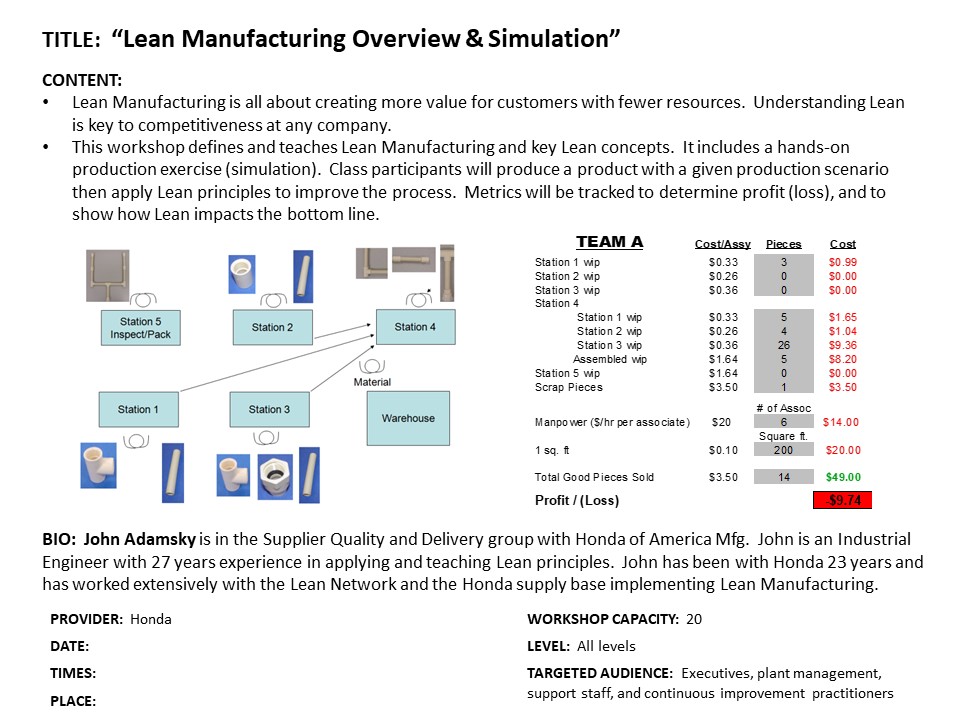 process. Metrics will be tracked to determine profit (loss).
Learning Objectives
– Lean Manufacturing
– The 8 Wastes
– TAKT Time, Target Cycle Time, Line Balance
– Process layout, workstation layout, 5S
– OEE (Overall Equipment Effectiveness)
– Batch versus Continuous Flow
Hands-on Simulation Exercises Included
Who Should Attend – Executives, plant management, support staff, continuous improvement practitioners, and anyone who wants to learn about Lean Manufacturing
ABOUT THE INSTRUCTOR
John Adamsky – is in the North American Purchasing Group with Honda North America. John is an Industrial Engineer with 25 years experience in applying and teaching Lean principles. John has been with Honda 20 years and has worked extensively with the Lean Network and the Honda supply base implementing Lean Manufacturing.
September 16, 2019
HSO
Acura Hall
19900 State Route 739
Marysville, OH 43040
AM Session – 8:30am-11:30am
PM Session – 12:30pm-3:30pm
Please note: All classes are priced and billed exclusively in U.S. dollars, regardless of location due to the nature of exchange rate fluctuation and the need to have a stable ticket price offered.
Eventbrite will charge a fee per ticket purchased. Eventbrite service fee: 2.5% of the ticket cost plus $0.99 per ticket sold in U.S. dollars.
US - Ohio (Green)